Our personal training staff is the best of the best; trained to help our clients crush their fitness goals and ensure that members get the absolute most our of their memberships. To get to know us a little bit better come in for an Intro Session. It's on the house.
An Intro Session is where you will meet with one of our Fitness Managers to determine a game plan to achieve the fitness and health changes you desire. First, the Fitness Manager will learn more about you, your fitness history, and your specific goals. You will learn what changes need to occur in your body to attain and maintain the goals you set out. You will learn how different activities in the gym will lead to these changes, set out a timeline for the changes, and learn about what mistakes will often prevent the progress you want to make. You will then go through a brief workout, to determine your current fitness level, as well as identifying any areas that may need correction, in order to attain your goals. The Fitness Manager will pair you with a personal trainer that he/she thinks is best suited to help you meet these goals and go over possible training packages with you.
Personal Trainers are assigned based on you scheduling needs, specific goals, and preferences. All programs include scripted workouts, general nutrition coaching, and monthly evaluations. Our trainers are all required to maintain a national PT certification, and regularly participate in continuing education, to assist you in reaching your goals, with the most modern and cutting-edge techniques.
Trainer
Steve Palanca
Personal Trainer
Certifications:
Steve graduated with a 3.41 GPA from ASU with a Bachelor of Science Degree in Exercise and Wellness.
Read More
Fitness Specializations and Interests:
With over 4 years of personal training practice, 4 years of Exercise and Wellness education, and 7 years as an instructor at a local university in Phoenix, Steve has 15years of total experience in fitness instruction and education. His approach to exercise consists of fitness and nutritional assessments, exercise prescription,nutritional guidance, determination of health risk factors,emotional support and encouragement. Steve believes that individualism plays a key role in client progression,especially those with injuries and medical needs. Each client must be designated their own exercise and wellness program that is specifically tailored towards their health and fitness goals. Steve has acquired education in specialized courses in: Human Kinesiology and Foundations of Movement, Exercise Testing and Prescription, Exercise Physiology, Human Nutrition,Stress Management, Management and Leadership,Substance Abuse and Health and Behavior Change.

Inspirational Quote:
"Without challenge, there is no
change. That means you should eat clean, train mean,
and live lean."
-Anonymous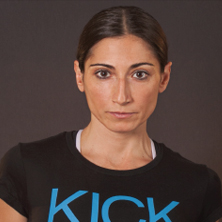 Maria Goldring
Personal Trainer
Certifications:
The American Council on Exercise, M.S in Education.
Read More
Fitness Specializations and Interests:
Originally from New York, Maria left her home town in Staten Island to get her Masters of Science in Education at Pace University in
Westchester. Now,she has almost an entire decade of background in personal training. She has a myriad of experience in training clients, including teenage athletes, new moms, seniors, and even injured individuals. Maria's philosophy is to meet the individual at their current level of fitness, and then to challenge their body beyond what they ever thought to be possible. She modifies the workout regimes when necessary, and finds it beneficial for her clients to include core and stability training, functional movements and strength building exercises in her sessions. In her spare time,Maria enjoys playing the piano and taking spin classes.
Inspirational Quote:
"Today is the day to take
charge of your health. Your body and mind will thank
you for it."
-Anonymous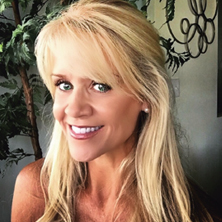 Teresa Neuman
Personal Trainer
Certifications:
Bachelor of Science, Magna Cum Laude, Arizona State University, 2009, NASM Certified Personal Trainer, Peak Pilates Certified Pilates Instructor
Read More
Fitness Specializations and Interests:
After completing her Bachelor's in Biology and being in the medical field for a few years, Teri realized that her true passion was to help people achieve and maintain optimal health, not treat illnesses caused by poor lifestyle choices.She uses this approach to educate and train her clients by showing them new and healthy ways to reach their fitness goals by incorporating nutrition, physical well-being,emphasizing the importance of daily healthy habits, and an overall positive attitude towards health and fitness. Teri enjoys getting to know her clients and tailoring sessions for each person, whether they have never been to a gym before or have been training for years. Her passion is helping clients develop from whatever their current fitness level is, to their personal optimum level of healthy living to achieve benefits such as stress relief, confidence, improved daily function and better restorative sleep. Teri's Pilates training has influenced how she trains her clients on the fitness floor focusing on body awareness, core strength,breathing, alignment, posture and corrective exercises.She has experience with teenagers, physique training,pregnant and peri/post-menopausal women and the elderly. Teri exudes health and happiness, anyone who has spent time with her will agree, she has a wonderfully contagious attitude towards a healthy lifestyle. When not in the gym, Teri enjoys being involved in her church, scubadiving, white-water rafting, and exploring the Hawaiian islands with her husband.
Inspirational Quote:
"That voice in your head that says you can't do this is a LIAR."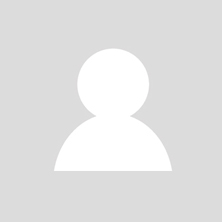 Bobby Cooke
Personal Trainer
Certifications:
NASM, NASM Corrective Exercise Specialist, NASM Performance Enhancement Specialist
Read More
Fitness Specializations and Interests:
14 years old, which is the year that his father bought him, "Arnold Schwarzenegger ": The Encyclopedia for the Modern Bodybuilder" book. After a couple months of seeing noticeable progress, he became hooked on fitness. From that point, he picked up Martial Arts and competed in many Brazilian Jiu Jitsu tournaments. He had always had an intense interest anything that has to do with the body or the mind. When it comes to training his clients,Bobby likes to first focus on correctional exercise and utilizing proper form. He hones in on his client's state of health, finding their weaknesses and turning them into strengths. The tight,overactive, aching muscles are add ressed through proper form, self-myofacial release, and stretching. From slow steps in the right direction,such as helping his clients create new, healthier eating habits to fast-paced strict programming for pre-competition. He has trains a wide variety of individuals, and truly believes that anyone in any position is capable of improving their life by focusing on strengthening the body and the mind.
Inspirational Quote:
"Think and you will become"